Being asked to be apart of Charlottesville's Design House was both extremely exciting and completely overwhelming. U-fab has never done this before. We have assisted many Designers in Richmond and in Charlottesville, but this is first solo room.
Once we found out that house was located in the beautiful golf community of Farmington we were excited to see what direction our inspiration would take us!
After much debate we decided that the best space to showcase U-Fab was the guesthouse bedroom.  While not as formal as the master bedroom it had all the potential to be very chic.  The large space allowed us to debut our custom bedding and draperies, and have room for a seating area to show off our award winning upholstery work. The next line of thought is function. Who would stay in the guesthouse?
Inspiration block…
The in-laws, old college friends, golf buddies, or a husband in the dog house. Why not anyone? Does the room need to feel gender neutral?  After realizing that this is a room for anyone, the next step was finding my color inspiration.
Inspiration block…
Naturally I always turn to, no other than, Mr. Chic,  Jonathan Adler. He always inspires me with his color, boldness, happiness, and glamor.  I admit that my style and Adler's style are not everyone's taste, so it needed to be toned down a bit.
Inspiration block…
Why not go back to the beautiful backdrop of this stately golf course? The tones of green on the fairways, my grandfather's leather country club bag, the neutral hews of the sand in the sand traps, the blues from the sky reflecting in the water hazards.  Okay, truth bomb, the only thing I know about golf is of the putt-putt or disc variety. But the greens are a thing of inspiration.
So, this may sound like I am aiming for a "theme room" and that is not the case at all.  When I am trying to decide what direction to take a space, its always good to take inspiration from the things around me that I love!  You will never have to look to far.  You can be inspired  by even the simple things that may be seemingly unrelated.
A few weeks back, I went to the movies and saw OZ, The Great and Powerful. After the movie I saw this striking poster in the theater.  Wow, now that is a color scheme!!! The emerald greens, the brassy golds, even pulling the blue from the balloon!
Color me inspired!!!
Now the fun begins.
Any Interior Designer will tell you that fabrics come before paint, everything starts with fabric at U-Fab. I was immediately drawn to the pallet and water color effect of this fabric when we saw it at market in December. It had all of the colors from the inspiring gold course views. I pulled the emerald greens and mixed them with the cobalt's with a dash of bronze. The palette is fun, sophisticated, and glam!
Once the color scheme was set, I decided to hit the town and start collecting. I can't say that I am a huge shopper (I can hear the gasps) but this is different, I get to buy things with Travis's money!!!
I decided to use our local resources in both Richmond and Charlottesville to collect some fabulous treasures for the room.
The first stop was Yves Delorme in Charlottesville. In a bedroom, Yves Delorme is the best place to start shopping. Luxury begins with sheets.  Rows and rows of fine linens – Belgium linen, washable silks, and fine sateen cottons. It was extremely difficult to choose.
Now that I had nailed down our pallet & bedding, the next piece to the puzzle was furniture.
Now, this a shameless plug (not really, because this is our blog) but you know that U-Fab is gonna rock out an fabulous upholstered headboard – nail-head trim included. I knew that I wanted to showcase our incredibly talented upholsterers by finding a sofa that was traditional with a twist.  The key to finding the perfect piece to re-upholster is to look at the lines and shape, not the original fabric. Just because the fabric and foam are worn and outdated doesn't mean the piece is not salvageable. The beat up, ugly legs can be painted. Nail-head accents can be added. Always keep an open mind when searching thrift store and consignment shops. This is one of my favorite things…to see the potential in an old piece.
Another plug, I always have a sense of pride when I walk into a local consignment shop and see UFab fabric on a piece.  I searched high and low for the right sofa and as my luck would have it, I found the perfect piece in Richmond at Verve (with the help of Carley and Little Richmond). Their focus is mostly mid-century styling – I knew that this was not our aesthetic, so you could say that I was pleasantly surprised.
The skirt obviously had to go, but look at all that tufting!!! Straight arms on a tufted sofa, I couldn't wait to get this back to our shop. Maybe it needed a little nail-head detailing too, who knows?! What a great find!
The case goods for the room were generously donated to us by PoshLiving.com – an e-commerce boutique based out of Richmond. We got to search their entire website and pick for fabulous pieces to use in our space. Again, I wanted something with a bit of a traditional flair to it. You can see the furniture (along with all the finishing touches) we selected when the design house opens on May 4th. I'm can't give everything away now!

After the big pieces had been selected, everything else began to fall in place. Patina Antiques (in C-Ville) have provided us with an incredibly electric rug and beautiful accessories.
>Shades of Light (in RVA and online) has graciously open up their inventory to supply us with fantastic lamps.
The icing on the cake is art on loan from Chasen Gallery (in RVA and online). Where should the art take us? Modern? Traditional? Abstract? Cubism? Then I came across this beauty.
A Pennsylvania artist uses Charlottesville as his muse. Oh, it's my colors again. His collection is just striking and perfect for the setting.
As with any room design, there are millions of directions, styles and options. Its about finding that one inspiration to set everything in motion. For me, the location, landscape and lifestyle of Charlottesville helped pull together this room. I'm excited to put on the finishing touches and share the design!
U-fab and I would like to thank all of our incredible vendors with supplying us with beautiful inspirational and FABulous finishing touches.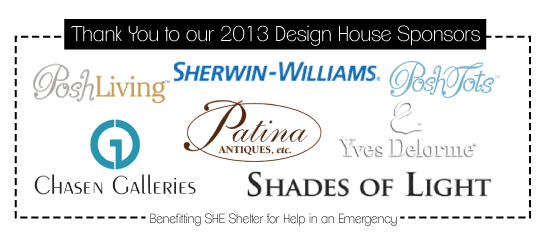 PoshLiving & PoshTots – Online retailer of beautiful home furnishings and decor (Online only).
Chasen Galleries – Fine Art Gallery (Richmond)
Yves Delorme – Luxury Bedding (Charlottesville & Richmond).
Patina Antiques – Antiques, decor and so much more (Charlottesville).
Shades of Light – Lighting Specialist (Richmond and online).
Sherwin Williams – Paint (Charlottesville & Richmond).
Come visit us in Charlottesville starting May 4th – May 19th to see U-Fab's inspiring finished room.  Tickets are available for purchase at the Richmond and Charlottesville U-Fab locations.  Maybe it will give you the inspiration you need to start a new project in your home!