Now that the room is complete and opening of the show house has commenced, we couldn't be more excited to share our room, as designed by our extremely talented creative director, William Thomas Chambers.

Welcome to the Guest Room! Here's what Will has to say about his special space,
"Whether the in-laws are in town or your golfing buddies have stopped by, the guest house bedroom is a welcoming retreat. The colors of nature have influenced the palette of the room with an addition of bling. The light bronze hue of the walls and deeper tone for the ceiling, set the stage for kelly green and cobalt pops. The luxurious custom bed and bedding has all of the details of a 5 star resort. The comfortable yet stylish seating area has the ability to let you relax, as if you're right at home. The bronze and antiqued gold accessories add a touch of glamor to your visit, or what could be an extended stay."

From floor to ceiling our fabulous paint was provided by Sherwin Williams

Our dresser, nightstand, and bookshelf was provided by online retailer PoshLiving, based out of Richmond.

FORE! We have a golf theme all throughout the room, which is situated in very close proximity to the Farmington Golf Course. Art books, and even some wooden golf clubs will greet you in our room.

Here's a close up of our headboard. Gold tone fabric and nail head details finish the look.

How about a pair of antique Italian occasional chairs in a cobalt blue? I love how we kept the original dark wood with this fun color.

Our sewing work can be seen all throughout the room, from the pillows, to the bedding, to the curtains, and of course the upholstery, U-Fab couldn't be prouder of our pieces in this stunning space.

Here is a pair of cubed ottomans we constructed and then added a radiator cover to the base giving them a super high end look.

If you visit the room, I implore you to pick up this bowl from Chasen Galleries. It is made of steel, and weighs several pounds.

Our lighting comes from Shades of Light and we think it really makes the space shine!

Chasen Galleries actually commissioned the artist, Rodgers, to paint these smaller paintings specifically for our room, as we needed something a little smaller on our accent walls.

Gold and bronze accessories and furniture is found throughout the space. We think this really pulls everything together.

Here's a shot of our sitting area, complete with a gorgeous gold and mirrored etagere from PoshLiving.

Our tufted chesterfield sofa was re-upholstered in a gorgeous white chenille, with a backdrop of a gorgeous blue and green printed drapery.

When it comes to our custom bedding, we were going for a high-end hotel or bed and breakfast. We were thinking luxury from the crisp white and gold accented duvet, pillows and headboard all the way to the Yves Delorme sheets.

I love how my reflection was so different from every angle in these Shades of Light mirrors.

Many of our gorgeous accessories came from Patina Antiques. A fabulous antique store in Charlottesville that has so much variety.
Here are some more photos, that needn't be captioned.
We are selling tickets at both of our stores, and for more information about the house please click here.
We would like to thank all our the staff who dedicated so much time to the completion of this room, especially the designer and our creative director William Thomas Chambers who pulled it all together. The volunteers of the Charlottesville Design House who are making it possible for you to visit every day (except Tuesday) from 10am-4pm (For a complete list of hours and events, click here.) and just a reminder all proceeds and ticket sales benefit a great cause (S.H.E. Shelter for Help in Emergency).
We would also like the thank the following businesses that have been instrumental in helping us out by donating or lending us products and great items to use, these are all great companies with great design that we strongly recommend you check out: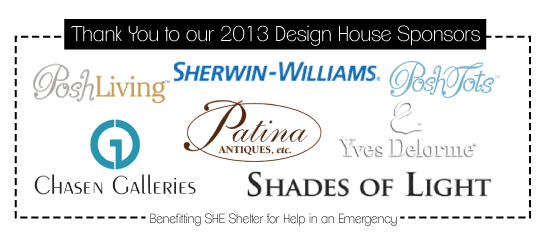 PoshLiving & PoshTots – Online retailer of beautiful home furnishings and decor (Online only).
Chasen Galleries – Fine Art Gallery (Richmond)
Yves Delorme – Luxury Bedding (Charlottesville & Richmond).
Patina Antiques – Antiques, decor and so much more (Charlottesville).
Shades of Light – Lighting Specialist (Richmond and online).
Sherwin Williams – Paint (Charlottesville & Richmond).