Spring is finally here
(well maybe…..)
It's been a long cold March but hopefully over the next few weeks it will start to feel like Spring soon. So with Spring around the corner it is time to get that outdoor living space in shape not only for all your upcoming guest but so you can relax and enjoy some time in the great outdoors. Also don't forget there is still plenty of time to get the rest of your interior spaces ready for the seemingly nonstop spring event season (weddings, graduations, mothers day, fathers day, etc). Here at U-Fab we are hard at work too, as we have a bunch of exciting projects and events coming up (see more below). But before we get into all that let's talk about what is likely on many of your minds this time of year…. Outdoor Fabrics.
Huge shipment of Sunbrella Outdoor fabrics

We been getting asked for months now, "When are your new outdoor fabrics coming?" While it wasn't as easy as it has been in the past but last week we got lucky and were able to secure a huge lot of over 5000 yards of Sunbrella 100% Solution Dyed Acrylic fabrics. The even better news is that this is by far the best shipment we have ever got, lots of patterns colors and designs and we have most of them priced to move at $14.99-$19.99 per yard. All of these fabrics just hit the stores in the last few days so get in quickly for the absolute best selection.
The Truth about Indoor/Outdoor Fabrics:
Outdoor living and textiles is a very hot category right now as we all want to expand our living space into our backyards (I know I have spent more money on my back yard renovation than I did on my kitchen…..). With this recent popularity a lot of outdoor products have come into the market recently and there are a lot of misconceptions about product performance in the market place. Basically long story short in the world of textiles there are two main type of outdoor fabrics (there are a few others but these 2 probably account of 95% of the product):
100% Solution Dyed Acrylic (ie. Sunbrella, Outdura, BellaDura and few others)


These products are true indoor/outdoor textiles that can be used next to the pool, on the porch or in your living room. Almost all have a UV rating above 2000 hours and have rub counts well above 20,000.
100% Spun Polyester (ie. Waverly Sun N Shade, Richloom, P/Kaufmann and many many many others)

This category represents the vast majority of the outdoor fabrics as they are very inexpensive and offer great colors and design, however these fabrics are NOT the same as Acrylic. Most of a UV rating of 500 hours or less and rub counts below 10,000. Basically they are designed for occasional use in direct sunlight and most will only last a few season max unless you constantly bring them inside when not in use.
A few years ago at U-Fab we made the decision to move away from Spun Polyester outdoor fabrics and instead focus on Acrylics. We made this decision as it is quite expensive to make and/or re-cover outdoor cushions and we only wanted to promote a product that we felt would justify such an investment. We do still sell some Spun Poly Outdoor fabric although not much as they are great for pillows accents or in areas that get very little sun and weather exposure, our main goal in all of this is to ensure our customers make an informed decision. You can learn more about Outdoor fabrics and seating by clicking here to read the informative blog we just wrote on the subject.
Easter Hours
Both stores will be open today Good Friday, tomorrow and on Easter Monday. So if you have the day or days' off stop by and see us.
Easter on Parade, "Fabio" & Fetch a Cure
Believe it or not it's already Easter and if you live in Richmond you know that means it's time for the annual Easter on Parade Tradition. It's hard to exactly describe Easter on Parade but I usually tell people that it is really a people and dog watching event. Every year thousands of families and their pets descend on the Monument avenue many in their Sunday best (think Seersucker suits, sun dresses and lots of fabulous hats) and many also dress up their dogs as well (they generally steal the show…). This year U-Fab is a lead sponsor of the Fetch a Cure Charity and we will unveil our dog "Fabio".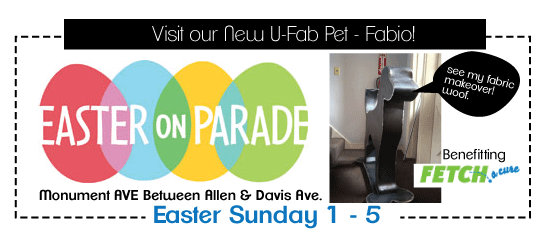 Each year a handful of local business sponsor a large steel dog and have a local artist perform their magic on it. This year we have somewhat altered the artistic medium. Instead of paint and brushes we have gave our steel pup "Fabio" a fabulous new coat made of fabric. Our lead seamstress Karin has been hard at work putting it all together and adding some amazing details and touches with her embroidery machine. We are all quite excited to see the finished product. If you can't make it out to Easter on Parade this weekend don't worry Fabio will be making his way around Richmond at a number of events over the next few months before he permanently comes home to our Richmond Store.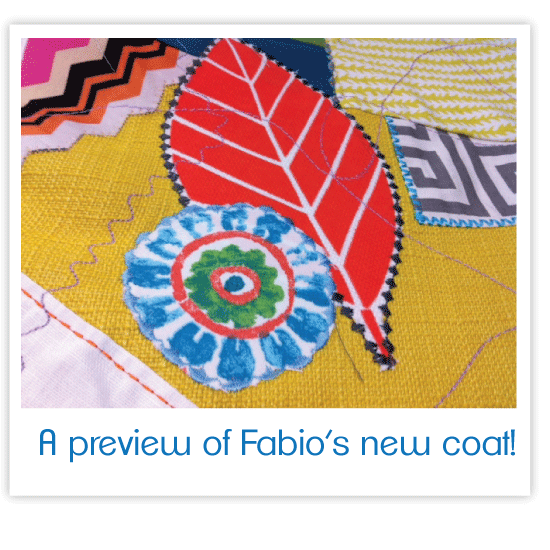 Charlottesville Designer House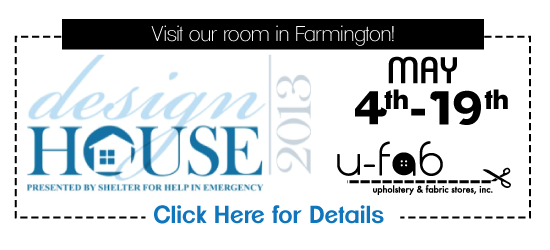 Earlier this month we were honored to be chosen to participate in the SHE (Shelter for Help in Emergency) Design House in Charlottesville. The home is a large beautiful home located in the very desirable Farmington community just outside of town. William Chambers our very talented Creative Director has been hard at work putting together all the details both large and small. We aren't giving away too many details just yet but you can be sure it will be a fabulous space so mark your calendars now as the home will be open for tours the first 3 weekends in May. Find out more about the design house here
We would also like the thank the following businesses that have been instrumental in helping us out by donating or lending us products and great items to use, these are all great companies with great design that we strongly recommend you check out: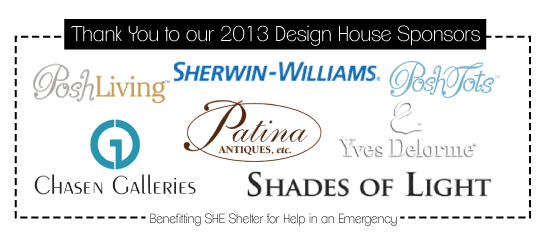 PoshLiving & PoshTots – Online retailer of beautiful home furnishings and decor (Online only).
Chasen Galleries – Fine Art Gallery (Richmond)
Yves Delorme – Luxury Bedding (Charlottesville & Richmond).
Patina Antiques – Antiques, decor and so much more (Charlottesville).
Shades of Light – Lighting Specialist (Richmond and online).
Sherwin Williams – Paint (Charlottesville & Richmond).
I hope you all have a wonderful Easter and enjoy the holiday with family and friends.
Travis